BENEFITS OF PENCO® VITAMIN C PLUS:

High dose of vitamin C - 500 mg in 1 capsule, which corresponds to 625% of the recommended daily dose

Higher content of vitamin D3 - 25 µg in 1 capsule, which corresponds to 500% of the recommended daily dose


Higher content of Zinc 25mg in 1 capsule, which corresponds to 250% of the recommended daily dose.

According to new studies, this effective combination has a positive effect on immunity.
DETAILED CHARACTERISTICS OF THE ACTIVE SUBSTANCES:
Vitamin C supports the body's natural defenses and helps maintain the normal function of the immune system during and after intense physical activity. The positive effect is achieved at a dose of 200 mg per day in addition to the recommended daily intake of vitamin C. Vitamin C also contributes to the normal functioning of the nervous system and to reducing fatigue and exhaustion.
Zinc is not only a crucial component of the immune system, but also helps maintain the normal condition of bones, hair, nails and skin, and maintains normal testosterone levels in the blood. According to some studies, it helps alleviate the symptoms of a cold and shorten its duration. In the dietary supplement Penco® Vitamin C plus is present in an organic, well absorbed form as zinc gluconate.
Vitamin D is a "sun vitamin", with a hormone structure that contributes to the normal absorption of calcium and phosphorus and is essential for healthy bones. It is also important for a normal immune system. Sufficient vitamin D is formed by the action of sunlight on the skin. In the autumn and winter months, many people do not have enough sunlight to make the necessary dose of vitamin D, and the body's ability to make vitamin D decreases with age. According to recent studies, vitamin D deficiency is common in the elderly. For people over 65, 10 denněg per day is recommended.
WHO IS PENCO® VITAMIN C PLUS FOR?
We recommend Penco® Vitamin C plus for people with increased physical and mental stress, for athletes and for older people over 60 years of age. It is especially suitable during periods of extreme physical activity, mental stress or in the autumn and winter months and during periods of increased risk of viral infection.
evon
Product info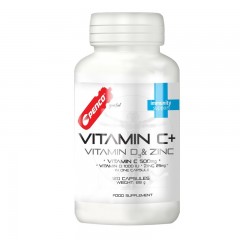 | | |
| --- | --- |
| Part number: | VITCPLUS |
| Manufacturer: | PENCO |
| Category: | VITAMINS & MINERALS |
| Availability: | immediately to expedition |
| Type of product: | Tablets |
| For sport: | Cycling | Triathlon | Gym | Running | Team sports |
| Size: | 120tbl |
| Timing: | Před výkonem |
| Form: | tablets |
| Number of tablets: | 120 |
DOSAGE:
Adults 1 capsule daily, children from 12 years 1 capsule daily or every other day. Drink 1 capsule with 200-300 ml of water or a hypotonic drink.
INGREDIENTS:
vitamin C (L-ascorbic acid), gelatin capsule (100% gelatin), zinc gluconate, vitamin D (cholecalciferol). The product may contain traces of milk, eggs and soy.
Warning: Do not exceed the recommended daily dosage. The product is not intended as a substitute for a varied diet. The product is not intended for children under 12 years, pregnant and lactating women on the recommendation of a doctor. Keep out of reach of children! Pay attention to a varied and balanced diet and a healthy lifestyle. If you have any problems after taking the medicine, stop taking it.
Minimum shelf life until the date marked on the bottom of the package.
Store and store in a dry place at a temperature up to 25
O
C.
Penco® Vitamin C plus - food supplement in gelatin capsules, suitable for normal function of the immune system, combination of vitamins C, D and zinc
Aktivní složky

v 1 capsule


% RHP*/

v 1 capsule

Vitamín C

500 mg

625%**

Vitamín D3


25 µg

500%**

Zinc

25 mg

250%**

* Reference intake value for the average adult (8,400kJ / 2,000kcal)

**% of the daily income reference value

The recommended daily dose is 1 capsule (0.74 g). The pack contains 120 capsules


.