MAIN ADVANTAGES OF PENCO® ULTRA ENERGY BAR:
88% FRUITS

DO NOT CONTAIN BET SUGAR OR MAIZE SYRUP

10% ISOMALTULOSE (PALATINOSE TM)
1% MCT OILS
EFFECTIVE ANTIOXIDATION SYSTEM (VITAMINS C, E) WITH COENZYME Q10
GLUTEN FREE
NO PALM OIL
VEGAN FRIENDLY
ONE PENCO® ULTRA ENERGY BAR:
44 g fruit * 167 kcal * 5.5 g fiber * 100 mg vitamin C * 6 mg vitamin E * 5 mg coenzyme Q10

WHY USE PENCO® ULTRA ENERGY BAR?

88% of PENCO® ULTRA ENERGY BAR bars are fruit, which is a suitable source of carbohydrates and supplies the body with energy for physical performance. The main fruit ingredient are dates that contain significant amounts of some vitamins and minerals, especially potassium. Ultra Energy Bar bars do not contain beet sugar or high fructose corn syrup.

PENCO® ULTRA ENERGY BAR bars are enriched with a special disaccharide isomaltulose (Palatinose TM) for a gradual release of energy during long-lasting sports performances. According to expert studies, isomaltulose is metabolized more slowly in the body without a significant increase in blood glucose. It provides the muscles and brain with the same amount of energy as cane and beet sugar, but over a longer period of time.

A completely unique component is MCT fats (Medium Chain Triacylglycerols), according to available literature they are rapidly absorbed and release energy.

PENCO® ULTRA ENERGY BAR, thanks to its increased vitamin C content, promotes the normal functioning of the immune system and suppresses the onset of fatigue and premature exhaustion during exercise.
Product info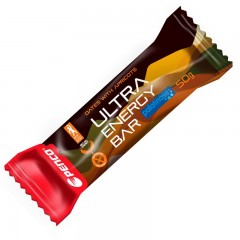 | | |
| --- | --- |
| Manufacturer: | PENCO |
| Category: | ENERGY BARS |
| Availability: | immediately to expedition |
| Type of product: | Bars |
| Flavor: | Dates & Apricots |
| For sport: | Cycling | Triathlon | Team sports |
| Size: | 50g |
| Flavours: | ultra-energy-bar |
| Timing: | Before activity | During activity |
COMPOSITION:
dates 73%, apricots 10% (apricot 96%, rice flour, sulfur dioxide preservative), isomaltulose * (PalatinoseTM) 10%, dried apples 5%, MCT coconut oil (fats with medium chain fatty acid length) 1%, cocoa butter, vitamin C (L-ascorbic acid), vitamin E (DL-alpha-tocopheryl acetate), coenzyme Q10. Isomaltulose is a source of glucose and fructose. The product may contain traces of peanuts, nuts, milk and soy.
DOSAGE:
During exercise every 60 minutes, drink 1 bar with water or a hypotonic drink
10 - 15 minutes before training
Fast fruit snack at any time of the day
Do not exceed the recommended daily dose of 5 bars. Not suitable for children under 3 years. Ensure a varied and balanced diet and a healthy lifestyle. In the event of any discomfort, discontinue use of the product. Best before date indicated on the package. Store and store in a dry place below 25 ° C. Do not expose to direct sunlight.
Nutritional data in 100 g: Energy value 1400 kJ / 334 kcal * Fat 4.1 g / of which saturated fatty acids 2.7 g * Carbohydrates 66.2 g of which sugars 44.0 g * Fiber 11.1 g * Protein 1 , 7 g * Salt 0.02 g, Vitamin C 200 mg (250% RHP *), Vitamin E 12 mg (100% RHP *), Coenzyme Q10 10 mg * Reference intake value for average adult (8 400kJ / 2 000kcal) ).