MAIN BENEFITS of Penco® AC Hydration Tabs:


5 electrolytes (sodium, potassium, chlorides, calcium and magnesium)
No sugars, low in calories
The ratio of electrolytes corresponds to the composition of the sweat
Vitamins C and B5 to reduce fatigue and exhaustion
With a natural aroma
Practical packaging and dosing

One Penco® AC Hydration Tabs contains:


400 mg sodium
110 mg of potassium
169 mg of chlorides
30 mg of calcium and 18 mg of magnesium
Vitamins C and B5


WHY USE Penco® AC Hydration Tabs?

During training lasting more than an hour or sports activities of higher intensity, not only water but also minerals are lost through sweat. According to available data, the largest electrolyte losses are sodium, potassium and chlorides. On average, about 1 g of sodium is excreted in 1 liter of sweat. Calcium and magnesium losses are significantly lower. Electrolyte balance affects not only health but also performance. The daily dose of Penco® AC Hydration Tabs 4 tbl = 2 liters of drink contains 1.6 g of sodium, 0.4 g of potassium and is a source of calcium and magnesium, which contribute to normal muscle function. Potassium is important for the normal functioning of the nervous system, supports muscle activity and helps maintain normal blood pressure. It is enriched with vitamin C and pantothenic acid to reduce fatigue and exhaustion. Depending on the length and intensity of sports activities, it is advisable to use Penco® AC Hydration Tabs during exercise in smaller doses at intervals of 10-15 minutes. It can also be combined with ionic drinks Penco® Mineral Drink or Penco® Energy Drink, which also supply energy.



WHO ARE Penco® AC Hydration Tabs SUITABLE FOR?

We recommend it for endurance exercise, especially in hot and humid environments, where athletes experience large losses of fluids and electrolytes through sweat in an effort to cool down. We also recommend to reduce the risk of cramps during training, which can be caused by the loss of large amounts of water and sodium.
evon
Product info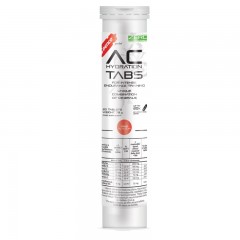 | | |
| --- | --- |
| Part number: | ACHYDRATABS |
| Manufacturer: | PENCO |
| Category: | POWDER ELECTROLYTE DRINKS |
| Availability: | immediately to expedition |
| Type of product: | Electrolyte drinks |
| Flavor: | Orange |
| For sport: | Cycling | Running | Team sports |
| Size: | 20 tablet |
| Flavours: | ac-HYDRA |
| Timing: | Před výkonem | Při výkonu |
| Form: | powder |
INGREDIENTS: acid - citric acid, acidity regulator - sodium bicarbonate, sweetener - sorbitol, sodium citrate, potassium citrate, sodium chloride, calcium lactate, natural aroma (orange), magnesium salts of citric acid, anti-caking agent - polyethylene glycol (PEG 6000), vitamin C (L-ascorbic acid), sweetener - sucralose, dye - beta-carotene, pantothenic acid (calcium D-pantothenate), sweetener - steviol glycosides

PREPARATION AND DOSAGE: Dissolve 1 tablet in 500 ml of water.

Recommended daily dosage: Before exercise 250 ml, during exercise 500 ml (1 tablet) every hour, maximum 4 tablets per day. Children from 12 years half dosage.

Warning: Do not exceed the recommended daily dosage. The product is not intended as a substitute for a varied diet. The product is not intended for children under 12 years, pregnant and lactating women. Keep out of reach of children! Excessive consumption can cause laxative effects. Pay attention to a varied and balanced diet and a healthy lifestyle. If you have any problems after taking the medicine, stop taking it.

Close the tube tightly! Minimum shelf life until the date indicated on the bottom of the package. Store and keep dry at a temperature between 5 o C and 25 o C in a tightly closed container.

Penco® AC Hydration Tabs - food supplement with sweeteners, without sugars, suitable for intensive sports performances, combination of minerals and vitamins C and B5