MAIN BENEFITS of Penco® AC Hydration Tabs:


5 electrolytes (sodium, potassium, chlorides, calcium and magnesium)
No sugars, low in calories
The ratio of electrolytes corresponds to the composition of the sweat
Vitamins C and B5 to reduce fatigue and exhaustion
With a natural aroma
Practical packaging and dosing

One Penco® AC Hydration Tabs contains:


400 mg sodium
110 mg of potassium
169 mg of chlorides
30 mg of calcium and 18 mg of magnesium
Vitamins C and B5


WHY USE Penco® AC Hydration Tabs?

During training lasting more than an hour or sports activities of higher intensity, not only water but also minerals are lost through sweat. According to available data, the largest electrolyte losses are sodium, potassium and chlorides. On average, about 1 g of sodium is excreted in 1 liter of sweat. Calcium and magnesium losses are significantly lower. Electrolyte balance affects not only health but also performance. The daily dose of Penco® AC Hydration Tabs 4 tbl = 2 liters of drink contains 1.6 g of sodium, 0.4 g of potassium and is a source of calcium and magnesium, which contribute to normal muscle function. Potassium is important for the normal functioning of the nervous system, supports muscle activity and helps maintain normal blood pressure. It is enriched with vitamin C and pantothenic acid to reduce fatigue and exhaustion. Depending on the length and intensity of sports activities, it is advisable to use Penco® AC Hydration Tabs during exercise in smaller doses at intervals of 10-15 minutes. It can also be combined with ionic drinks Penco® Mineral Drink or Penco® Energy Drink, which also supply energy.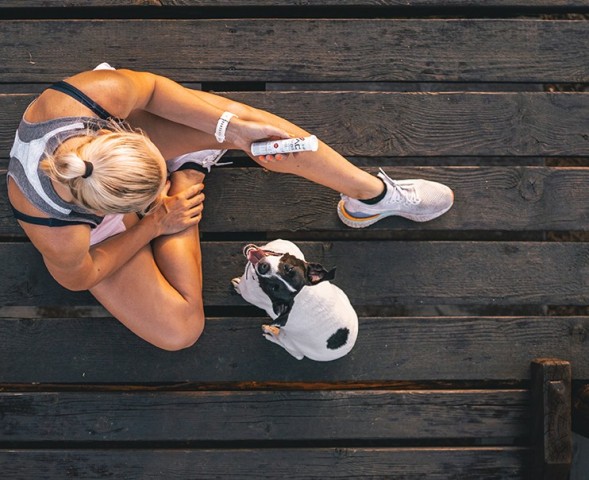 FOR WHO ARE Penco® AC Hydration Tabs SUITABLE FOR?

We recommend it for endurance exercise, especially in hot and humid environments, where athletes experience large losses of fluids and electrolytes through sweat in an effort to cool down. We also recommend to reduce the risk of cramps during training, which can be caused by the loss of large amounts of water and sodium.
Product info
| | |
| --- | --- |
| Part number: | ACHYDRATABSLEM |
| Manufacturer: | PENCO |
| Category: | POWDER ELECTROLYTE DRINKS |
| Availability: | immediately to expedition |
| Type of product: | Electrolyte drinks |
| Flavor: | Citrón |
| For sport: | Cycling | Running | Team sports |
| Size: | 20 tablet |
| Flavours: | ac-HYDRA |
| Timing: | Před výkonem | Při výkonu |
| Form: | powder |
SLOŽENÍ: kyselina – kyselina citrónová, regulátor kyselosti – hydrogenuhličitan sodný, sladidlo – sorbitol, citrát sodný, citrát draselný, chlorid sodný, mléčnan vápenatý, hořečnaté soli kyseliny citronové, přírodní aromata, protispékavá látka – polyethylenglykol (PEG 6000), vitamín C (L-askorbová kyselina), sladidlo - sukralóza, kyselina pantothenová (D -pantothenát vápenatý), sladidlo - steviolglykosidy.
PŘÍPRAVA A DÁVKOVÁNÍ: 1 tabletu rozpusťte v 500 ml vody. (Osmolalita (82 mOsm/kg)
Doporučené denní dávkování: Před výkonem 250 ml, během výkonu 500 ml (1 tableta) každou hodinu, maximálně 4 tablety denně. Děti od 12 let poloviční dávkování.

Upozornění: Nepřekračujte doporučené denní dávkování. Výrobek není určen jako náhrada pestré stravy. Výrobek není určen pro děti do 12 let, těhotné a kojící ženy. Ukládat mimo dosah dětí! Nadměrná konzumace může vyvolat projímavé účinky. Dbejte na různorodou a vyváženou stravu a zdravý životní styl. V případě jakýchkoli obtíží po užití přípravku přerušte jeho užívání.
Tubu těsně uzavírejte! Minimální trvanlivost do data uvedeného na spodní straně obalu. Skladujte a uchovávejte v suchu při teplotě od 5 o C do 25 o C v dobře uzavřeném obalu.

Penco® AC Hydration Tabs – doplněk stravy se sladidly, bez cukrů, vhodný při intenzivních sportovních výkonech, kombinace minerálů a vitamínů C a B5
Vitamíny a

minerální látky

v 1 tabletě

% RHP*/

1 tableta

v max. denní dávce

(4 tablety)

% RHP*/

4 tablety

Sodík

400 mg

1600 mg

Draslík

110 mg

5,5%**

440 mg

22%**

Chlor

169 mg

21%**

676 mg

84%**

Vápník

30 mg

3,8%**

120 mg

15%**

Hořčík

18 mg

4,8%**

72 mg

19%**

Vitamín C

40 mg

50%**

160 mg

200%**

Kys. pantothenová

8 mg

133%**

32 mg

530%**

**% denní referenční hodnoty příjmu

Maximální doporučená denní dávka odpovídá 4 tabletám (16,4 g)

Balení obsahuje 20 šumivých tablet.