MAIN ADVANTAGES Penco® ULTRA ENDURANCE DRINK:
Mix of 5 different types of carbohydrates Penco® Carb Mix
Optimum ratio Glucose : Fructose 2 : 1
Enriched with MCT oil and taurine
With the minerals sodium and potassium
Isotonic drink
Delicious cherry flavour
ONE DOSE OF Penco® ULTRA ENDURANCE DRINK CONTAINS:

Energy 210 kcal
47 g carbohydrates from Penco® Carb Mix ( Maltodextrin DE 18-20, Cluster Dextrin®, Palatinose TM, Fruktose, Glucose)
2000 mg MCT oil
1000 mg taurin
WHY TO USE Penco® ULTRA ENDURANCE DRINK ?
Penco® ULTRA ENDURANCE DRINK is a powder concentrate for the preparation of a carbohydrate drink that helps to improve physical performance during high-intensity and prolonged (min. 60 minutes) physical activity in trained adults. It contains a blend of Penco® Carb Mix carbohydrates i.e. glucose polymers, fructose, glucose, PalatinoseTM and Alpha-Cyclodextrin Cluster Dextrin® .

The combination of different carbohydrate types has been found to increase absorption and thus provide more available energy (90-110 g of carbohydrate /hr) for endurance sports performance. Glucose alone burns a maximum of 60 g of carbohydrate per hour, while fructose is able to provide extra energy to working muscles in the form of an additional 30 g of carbohydrate/hr.



The properties of the carbohydrates present in Penco® Carb Mix vary and have different functions:


Cluster Dextrin® alpha-cyclodextrin - a "Novel Food" cyclic carbohydrate with a low glycemic index (GI), which helps to limit glucose spikes and, due to its high molecular weight, does not increase the osmolarity of the beverage, allowing for rapid gastric flow and effective hydration.

Maltodextrin DE 18-20 - enzymatically modified corn starch with a dextrose equivalent of 18-20, high GI and high molecular weight

Palatinose TM- a low GI disaccharide with a gradual release of energy

Fructose - a simple sugar, monosaccharide, which, like Palatinosa, is classified as a carbohydrate with gradual energy release and low GI.

Glucose - a simple sugar, monosaccharide, with a high GI and rapid energy release.

WHO IS Penco® ULTRA ENDURANCE DRINK FOR?
We recommend it for endurance exercise, when using Penco® ULTRA ENDURANCE DRINK saves muscle glycogen and even in the final phase of training or race you will still have enough energy. In strength and endurance sports such as football, hockey, basketball, tennis... the carbohydrate supply helps to maintain performance, pace and speed.

Product info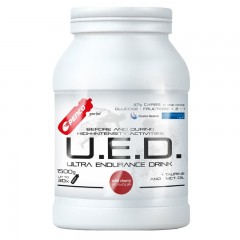 | | |
| --- | --- |
| Manufacturer: | PENCO |
| Category: | NUTRITION BEFORE ACTIVITY |
| Availability: | immediately to expedition |
| Type of product: | Recovery drinks |
| Flavor: | Cherry |
| For sport: | Cycling | Triathlon | Gym | Running | Team sports |
| Size: | 600g | 1500g |
| Timing: | Před výkonem | Při výkonu |
| Form: | powder |
INGREDIENTS: maltodextrin DE 18-20 35%, isomaltulose* PalatinoseTM 20%, fructose 20%, alpha-cyclodextrin Cluster Dextrin® 10%, powdered MCT oil (70/30) 5.8%, glucose 3%, taurine 2%, dried apple juice, colour: dried beetroot juice, flavouring, sea salt, acidity regulator: citric acid, sodium citrate, potassium citrate, caramel colour.

* Isomaltulose is a source of glucose and fructose. This product may contain traces of milk, gluten-containing cereals, soy and egg.

PREPARATION AND DOSAGE:

Before exercise: for adults dissolve50 g of powder mixture (3 scoops) in 250 ml of water. Recommended 10-15 minutes before training or game.

During training/competition: for adults, dissolve 50 g of powder mixture (3 scoops) in 500 ml of water (1 bidon).Drink 200 - 250 ml every 20 minutes. For high-intensity (65% VO2 max) and prolonged physical activity (over 60 minutes), 1-2 bids (60-90 g of carbohydrates/hr) are recommended.


Please note: Do not exceed the recommended daily dose of 150 g of powder. Not intended for children under 15 years of age. Keep out of reach of children! Not intended as a substitute for a varied diet.

For desired effects, follow the preparation procedure given. Maintain a varied and balanced diet and a healthy lifestyle. Discontinue use if you experience any difficulties after taking the product.
Nutritional dates
ve 100 g
% RHP*/
one dose

%RHP*/
100 g
50 g
50 g
Energy
1763 kJ
21%
882 kJ
10%
416 kcal
21%
208 kcal
10%
fats
4 g
6%
2 g
3%
which from saturated fats
4 g
20%
2 g
10%
Carbohydrates
93 g
34%
46,5 g
17%
which from sugars
43 g
48%
21,5g
24%
Proteins
2 g
4%
1 g
2%
Salt
1 g
17%
0,5 g
9%
Taurin
2000 mg
1000 mg
Sodium
410 mg
205 mg
Potassium
100 mg
5%
50 mg
2,50%
* Reference intake for an average adult (8 400kJ/ 2 000kcal)
1 serving is equivalent to 50 g. The pack contains 12 doses. The maximum daily dose corresponds to 150 g.