PENCO® BCAA INSTANT 8000 contains in one dose:

8,000 mg BCAA (2: 1: 1)

4 mg of vitamin B6

6 μg vitamin B12

160 mg of vitamin C

250 mg of L-arginine



without sugar

excellent solubility and taste



Branched Chain Amino Acids (BCAA) is one of the essential amino acids that a human organism can not create itself. BCAAs naturally occur in human diet, are an important part of all proteins. A rich source of BCAA is, for example, whey protein. Studies show that BCAA megadoses can reduce feelings of fatigue and increase endurance exercise performance. BCAAs are rapidly absorbed in the body and can be used as:
Energy source for muscle glycogen exhaustion

Protection of existing muscle tissue (anti-catabolic effect)

A ready building unit for building new muscle tissue (anabolic effect)




The amino acid preparation PENCO® BCAA INSTANT 8000 contains another free amino acid L-arginine, which accelerates the regeneration of the working muscle by increasing the lactic acid output. For better use of amino acids, PENCO® BCAA INSTANT 8000 is enriched with vitamin B6, which contributes to normal metabolism of proteins and glycogen to regulate hormonal activity and, together with vitamins C and B12, prevents fatigue and attenuation during long-term performance.
PENCO® BCAA INSTANT 8000 is recommended for excessive aerobic load and endurance sports.
Product info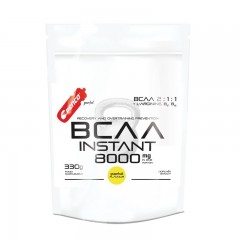 | | |
| --- | --- |
| Part number: | BCAAINST330GREP |
| Manufacturer: | PENCO |
| Category: | POWDER AMINOACIDS |
| Availability: | immediately to expedition |
| Type of product: | Aminokyseliny |
| Flavor: | Grapefruit |
| For sport: | Cycling | Triathlon | Gym | Running | Team sports |
| Flavours: | INSTANT -BCAA-330 |
| Timing: | Po výkonu |
| Form: | powder |
COMPOSITION: instant mix of free branched amino acids BCAA (L-leucine, L-valine, L-isoleucine, 2: 1: 1, emulsifier: soy lecithin up to 0.8%), acidity regulator: citric acid, L-arginine base, vitamin C (L-ascorbic acid), sweeteners Sukralosa and Acesulfame K, aroma, natural dyestuff: dried beet juice (cherry flavor only), naringin (grapefruit only), vitamin B6 (pyridoxine hydrochloride), vitamin B2 (riboflavin- 5-phosphate) (grapefruit flavor only), vitamin B12 (cyanocobalamin).

PREPARATION AND DOSING: ½ measuring cups (5.5 g) are dissolved in 200 ml of water or 1 flat measuring cup (11 g) is dissolved in 400 ml of water.
Uložit
Uložit
Uložit
Uložit
Uložit
Uložit
Uložit
Uložit
Uložit
Uložit
Uložit
Uložit
Uložit