L-arginine based on expert studies:

Increases blood flow to the muscle tissue
Increases the drainage of lactic acid from the overloaded muscle
Stimulates the defense system
Increases sexual performance

L-ARGININ is an important amino acid that is involved in a number of physiological processes in the body, including cell division, wound healing, blood ammonia removal, immune response and secretion of important hormones, especially growth hormone. Growth hormone levels peak in adolescence and decrease in age with increasing age, causing fatty tissue growth and muscle wasting and decreased immunity. Its excretion stimulates L-ARGININ at any age.

The natural source of arginine is poultry, wheat bread made from wholemeal flour, oatmeal, roasted corn, nuts, sunflower and sesame seeds.

The body uses arginine to produce nitric oxide, which is one of the most important substances of expansion vessels and increases the flow of blood through the vascular system. This effect is a critical factor in the use of arginine in sports and in medical practice. Dilatated vessels allow not only an increased supply of oxygen and other nutrients to the muscle and its faster growth, but also a faster regeneration of the stressed muscle by improved dairy extract. Arginine is also used today to treat cardiovascular diseases and impotence caused by reduced blood flow through blood vessels. An example of a successful application is to reduce the incidence of angina pectoris, to accelerate the treatment of burns and to increase fertility in men. Athletes can successfully use L-arginine to promote the growth of high-quality muscle mass.

Warning: Not for children and not recommended for pregnant and breastfeeding women, Crohn's disease, kidney disease, cancer and rheumatoid arthritis. Diabetics should also be consulted beforehand with the attending physician.
Product info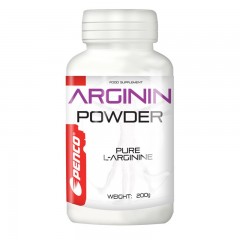 | | |
| --- | --- |
| Part number: | ARGININ200 |
| Manufacturer: | PENCO |
| Category: | POWDER AMINOACIDS |
| Availability: | immediately to expedition |
| Type of product: | Aminokyseliny |
| For sport: | Gym |
| Size: | 200g |
| Timing: | Před výkonem |
| Form: | powder |
COMPOSITION: The free amino acid of L-arginine base

DOSAGE: adults 2-3 times a day, 1 g of powder (1 aligned scoop) to be mixed in a flavored, unsweetened beverage, preferably ionic, such as Penco MD, ED or Penco Ionogen.
| | | |
| --- | --- | --- |
| NUTRITIONAL DATES | | 100 g |
| Energy | kJ | 1680 |
| | kcal | 400 |
| Fats | g | 0 |
| from that saturated fat acids | g | 0 |
| | g | 0 |
| Sacharides | g | 0 |
| from that sugars | g | 0 |
| Proteins | g | 0 |
| Salt | g | 0 |
| L-arginin | g | 99 |