great protein for vegans and vegetarians

26 g of proteins per dose

2,500 mg of free BCAAs per dose

5 μg of vitamin B12 in one dose

10 mg of iron per dose

Opti-7- DIGEST - a complex of digestive enzymes (amylase, cellulase, lactase, lipase, protease, papain, bromelain).

PENCO® Green Protein with sugar and sweetener (steviol glycoside), contains 58% proteins of pure plant origin, from soy isolate, pumpkin and almond protein concentrate and instant whole grain rice. One dose of PENCO® Green Protein provides 26g of proteins that contribute to the growth and maintenance of muscle mass. A good vegetarian diet must contain enough essential amino acids to restore muscle tissue. This can be achieved by a suitable combination of plant proteins from different sources. PENCO® Green Protein additionally contains an instant mixture of free branched amino acids BCAA in an ideal physiological ratio (Leu: Val :: Ile = 2: 1: 1).Excluding meat from a diet may also be due to the lack of iron and vitamin B, especially vitamin B12. An important feature of PENCO® Green Protein is the presence of vitamin B12 and iron in organic form. Vitamin B12 contributes to the normal functioning of the nervous system and the immune system and iron to normal red blood cell and hemoglobin production. For better digestibility, PENCO® Green Protein is enriched with a mixture of Opti-7-DIGEST digestive enzymes of plant origin.

Product info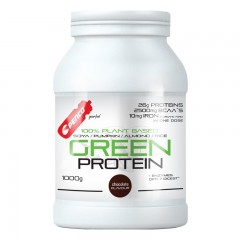 | | |
| --- | --- |
| Part number: | GbP1000COK |
| Manufacturer: | PENCO |
| Category: | PROTEINS 60-80% |
| Availability: | immediately to expedition |
| Type of product: | Protein drinks |
| Flavor: | čokoláda |
| For sport: | Cycling | Triathlon | Gym | Running | Team sports |
| Size: | 1000g |
| Timing: | Po výkonu |
| Form: | powder |
COMPOSITION: mixture of vegetable proteins (soy isolate 51%, pumpkin concentrate 9%, instant whole grain rice 5%, almond concentrate 3%), cocoa powder, cane sugar, instant mixture of free branched amino acids BCAA 5% (L-leucine, L-valine, L -isoleucine, 2: 1: 1, emulsifier: soy lecithin up to 2%), inulin 5%, emulsifier: soy lecithin, vitamin mixture (L-ascorbic acid, tocopheryl acetate 50%, nicotinamide, calcium D-pantothenate, riboflavin, pyridoxine hydrochloride, thiamine mononitrate, pteroylmonoglutamic acid, D-biotin, cyanocobalamin), sunflower oil, Opti-7-Digest 0.1% (mixture of plant enzymes amylase, cellulase, lactase, lipase, protease, papain, bromelain), sweetener : steviol glycoside, ferrous fumarate, antioxidants: vitamin E (DL-alpha-tocopheryl acetate) and vitamin C (L-ascorbyl-6-palmitate).
PREPARATION AND USE: Depending on the intensity of the load and current needs of the protein, mix 45g (3 scoops) of the powder with a shaker in 250-300 ml of cold water. The cocktail should be prepared immediately before consumption. Drink 60-90 minutes after the exercise, or as a second dinner. Do not exceed the maximum recommended consumption, i.e. 90 g per day. Take care of a diverse and balanced diet and a healthy lifestyle. In case of any difficulty in using the product, stop using it.
Uložit
Uložit
Uložit
Uložit
Uložit
Uložit
Uložit
Uložit
Uložit
Uložit
Uložit
Uložit
Uložit
Uložit
Uložit
Uložit
Uložit
Uložit
Uložit
Uložit
Uložit
Uložit
Uložit