L-Glutamine is a free amino acid with a number of positive effects on sports performance.
PENCO® L-GLUTAMINE based on expert studies:
Prevents immune reduction after hard workouts
Protects muscle proteins from degradation
Increases the level of growth hormone in the blood
Increases the transport of water to muscle cells
Protects against fatigue and over-training syndrome
WHY IS L-GLUTAMIN FOR ATHLETES IMPORTANT?
L-glutamine is the most abundant free amino acid in muscle tissue and, according to expert literature, plays a key role not only in muscle metabolism but also in the immune and nervous system. L-glutamine affects the transport of water to muscle cells, the so-called volumizing effect, creating favorable conditions for the anabolic process. Glutamine also increases the level of growth hormone at a dose of at least 2g daily. The positive effect of glutamine in muscle metabolism therefore results from both its anti catabolic and anabolic effects. The result is the increase in muscle volume and strength.
WHAT ARE THE ADDITIONAL EFFECTS OF L-GLUTAMIN?
Glutamine is preferably used by cells of the immune system, promotes their production and thus affects the immune system. At high body load, intense exercise intensifies the need for glutamine, and therefore supplementation with L-glutamine is recommended to athletes, especially for longer training sessions.
Product info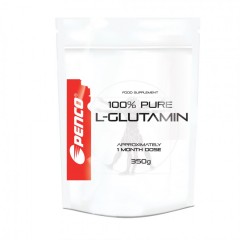 | | |
| --- | --- |
| Part number: | GLU350 |
| Manufacturer: | PENCO |
| Category: | POWDER AMINOACIDS |
| Availability: | immediately to expedition |
| Type of product: | Aminoacids |
| For sport: | Cycling | Triathlon | Gym | Running | Team sports |
| Size: | 350g |
| Timing: | After Activity |
| Form: | powder |
COMPOSITION: free amino acid L-Glutamine
PREPARATION AND DOSING: L-Glutamine has two-phase dosing:
1st intake phase: 2 x daily 5 to 7.5 g for 1 week
2nd maintenance phase: 2 x daily 2 to 4 g
It is preferable to give the first dose within 1 hour after exercise and the second before bedtime. There should be a 3-5 hour delay between administrations. After 4-6 weeks, it is advisable to discontinue L-glutamine for 14 to 30 days to prevent unwanted adaptation of the organism.
Maximum daily dose: 15 g, administered for 1 week. Do not exceed the recommended daily dosage. Preparation: The selected dose is dissolved in 150 - 250 ml of water or a protein drink, such as Penco® Magnus or Penco® Whey Protein. One flattened teaspoon contains about 4 g of L-glutamine.