100% CFM Whey Protein

37 g of proteins per dose

2,500 mg of L-glutamine per dose

4 mg of vitamin B6 in one dose

Opti-7- DIGEST - a complex of digestive enzymes (amylase, cellulase, lactase, lipase, protease, papain, bromelain).

The source of proteins is exclusively Whey Protein Concentrate (WPC), containing a high proportion of biologically active fractions obtained by the unique gentle process of Cross-Flow Microfiltration (CFM). CFM whey protein concentrate contains up to 80% of proteins of high biological value, low fat and lactose. Due to the instantiation, it is well soluble in the water and easy to absorb. Compared to the whey isolate or hydrolyzate, it contains more vitamins and minerals, especially calcium and magnesium. It is appropriate to include it with a longer time after exercise (60-90 min) or night. Note: Whey hydrolyzate is obtained by enzymatic cleavage of long chain whey proteins. The truncated shorter strings are then better absorbed. Unlike WPC, whey hydrolyzates are recommended immediately after exercise. Enzymatic hydrolysis, however, produces a high-quality, easy-to-use protein, but at the expense of taste impairment.

One dose of PENCO® Whey Protein provides 37g of proteins that help maintain muscle mass. The high content of vitamin B6 promotes normal metabolism of proteins and glycogen. For better digestibility,PENCO® Whey Protein is enriched with a mixture of the digestive enzymes Opti-7-DIGEST of plant origin.

PENCO® Whey Protein is an essential part of a nutritional program not only for sports discipline athletes but also for endurance and recreational athletes. It is also intended for individuals who have difficulty in gaining muscle mass. It is also great as part of a protein diet.

Characteristics:

Protein source is exclusively a whey protein concentrate obtained by a Cross-Flow microfiltration (CFM) process that retains a high proportion of biologically active fractions (β-lactoglobulin, α-lactalbumin, immunoglobulin, glycomacropeptide)

L

ow fat and lactose

C

ontains a complex of digestive enzymes Opti-7-DIGEST

WPC instantiation improves its solubility.

N

atural flavor of vanilla, chocolate and strawberry.

Does not contain aspartame or sucralose!
Product info
| | |
| --- | --- |
| Manufacturer: | PENCO |
| Category: | PROTEINS 60-80% |
| Availability: | immediately to expedition |
| Type of product: | Protein drinks |
| Flavor: | Vanilla |
| For sport: | Cycling | Triathlon | Gym | Running | Team sports |
| Size: | 1000g |
| Flavours: | whey-protein-1000 |
| Timing: | Po výkonu |
| Form: | powder |
COMPOSITION: CFM whey protein concentrate 85% (43-48% beta-lactoglobulin, 14-18% alpha-lactalbumin, 1-3% immunoglobulins, 24-28% glycomacropeptides, Annato natural dye), cocoa powder, L-glutamin 5%, taurin 5%, emulsifier soya lecithin, aroma, thickening agent: xanthan gum, vitamin premix (L-ascorbic acid, 50% tocopheryl acetate, nicotinamide, calcium D-pantothenate, riboflavin, pyridoxine hydrochloride, thiamin-mononitrate, folic acid, D-biotin, cyanocobalamin), dye: dried beet juice (strawberry flavor only), beta-carotene (vanilla flavor only), sweetener: steviol glycoside, Opti-7-Digest 0,1% (a mixture of plant enzymes amylase, cellulase, lactase, lipase, protease, papain, bromelain). Mineral substances are present as a natural part of the raw materials.
PREPARATION AND USE: Depending on the intensity and current needs of the protein, mix 50g of PENCO® WHEY PROTEIN(4 scoops) for example with a shaker in 200ml of cold water or 25g (2 scoops) in 100ml of water. For children from the age of 12, half the dose according to the load. Drink 60-90 minutes after the exercise, or before sleep. Follow the above procedure to achieve the desired effects. Do not exceed the maximum recommended consumption, i.e. 100g per day. Take care of a diverse and balanced diet and a healthy lifestyle. In case of any difficulty in using the product, stop using it.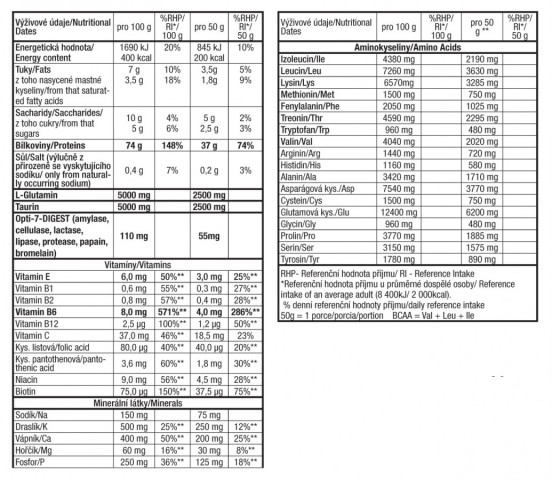 Uložit
Uložit
Uložit
Uložit