PENCO® L-CARNITIN LIQUID contains 500ml of 35,000 mg CARNIPURE L-carnitine branded high quality and purity from the Swiss company LONZA. Only the L-form of carnitine is biologically active, the D-form is ineffective and reduces the usefulness of the L-form. 100% pure L-carnitine is produced by a patented biochemical procedure.

Anti-stress vitamin B5, pantothenic acid, as part of coenzyme A (CoA) improves the metabolism of L-carnitine. Trivalent chromium suppresses appetite for sweetness, increases insulin use and its ability to regulate blood glucose levels and helps reduce excess weight.

Effective dose of L-carnitine:


P

romotes fat burning and prevents them from being stored

Increases performance during intense training

D

elays physiological symptoms of fatigue

Accelerates regeneration after physical exercise

The main function of L-carnitine is the transport of free fatty acids into the mitochondria, where fat is converted to usable energy. This promotes the fat burning of your body and positively affects your more intense performance.

L-carnitine has been discovered in the early 20th century in meat, hence the name (caro, carnis = meat) and today is one of the most popular "fat removers" improves efficiency, is not considered to be doping, its main function is the transfer of long-chain cytosolic fatty acids through the mitochondrial membranes through a carnitine-transport-shuttle mechanism into the mitochondria where their β-oxidation (fat burning) muscle work.
Product info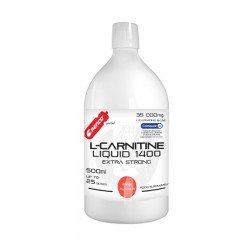 | | |
| --- | --- |
| Part number: | KARNLIQ500POM |
| Manufacturer: | PENCO |
| Category: | FAT BURNERS |
| Availability: | immediately to expedition |
| Flavor: | Orange |
| For sport: | Gym |
| Size: | 500ml |
| Flavours: | L-karnitin-liquid |
| Form: | liquid |
COMPOSITION: water, L-carnitine base, acidity regulator: citric acid, aroma, flavor citron (stabilizers E414, E445) (citrus flavor only), calcium pantothenate,
preservatives potassium sorbate, sodium benzoate, natural coloring agent, carminic acid , chromium (III) chloride.


PREPARATION AND DOSING: Drink 1 measuring cup of 20 ml (only 24 kJ!) or add to water.
Athletes, vegetarians, seniors and overweight people 1 dose (20 ml) a day, 1/2 dose (10 ml) for the general population.


For athletes we recommend a 20-ml single dose before physical exercise.
Those who want to lose weight should take 10 ml in the morning and another 10 ml during the day, preferably before exercise.
For vegetarians and elderly people who have lower blood L-carnitine levels, we recommend 1 dose (20ml) in the morning
Nutritional dates

100 ml
%RHP*/
ve 20 ml
%RHP*/
100ml
1 dose
20 ml
Energy
kJ
119
1%
24
0%
kcal
28
5,6
Fats
g
<0,1
0%
<0,1
0%
from that saturated fat acids
g
-
0%
-
0%
Sacharides
g
<0,1
0%
<0,1
0%
from that sugars
g
-
0%
-
0%
Protein
g
7
14%
1,4
3%
Salt
g
0
0%
0
0%
L-carnitine
mg
7 000
1 400
Panthotenic acid
mg
50
833%**
10
166%**
Chromium 3+
µg
200
500%**
40
100%**
**% daily reference intake (RI)Reference intake of an average adult (8 400kJ/ 2 000kcal).