Penco® JET POWER is an electrolyte energizer for periods of extreme mental and physical stress. It has a high content of active substances (caffeine, L-carnitine, taurine and vitamin C) in an ideal functional ratio.


Increases endurance performance (high caffeine content)

Reduces effort perception (high caffeine content)

Increases sharpness and agility (high caffeine content)

Delays the onset of fatigue and exhaustion (vitamin C 100 mg in 1 dose)

It works very quickly

The high vitamin C content with antioxidant action prevents the destructive effect of free oxygen radicals resulting from intense physical stress. Vitamin C ensures proper functioning of all cells in the body, helps protect cells from oxidative stress and improves mental activity and has a great impact on the whole body's immunity.

Caffeine has a strong stimulating effect, increases alertness and improves concentration. In addition, caffeine has been shown to increase the endurance capacity and reduce the perception of exercise with intense physical performance.

Taurine, on the basis of a number of expert studies, in addition to a significant antioxidant effect, promotes the management and transmission of the CNS. Taurine improves muscle coordination and concentration.

The source of L-CARNITINE in Penco® JET POWER is L-Carnipure, the purest and most effective form of carnitine from the Swiss company Lonza. The professional work of this company indicates that L-carnitine promotes fat burning to produce the energy needed for physical exercise. They also mention the positive effect of L-carnitine on reducing the production of lactic acid during physical exercise, thereby increasing the ability of the athlete to maintain the level of deployment.

The outstanding features of Penco® JET POWER, especially improving brain function, increased attention and concentration or suppression of fatigue, will be appreciated not only by long-distance drivers, re-enrolled students, or senior managers, but also by top and recreational athletes. Jet Power's ability to increase performance and prevent exhaustion during endurance (lasting 60-70 minutes) will make the athletes feel particularly at the final stage of the race.
Product info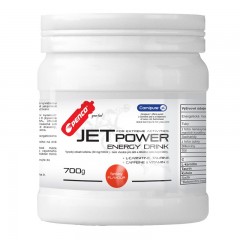 | | |
| --- | --- |
| Part number: | JETPOWER700 |
| Manufacturer: | PENCO |
| Category: | ENERGY STIMULANTS |
| Availability: | immediately to expedition |
| Type of product: | Electrolyte drinks |
| Flavor: | Fantasy |
| For sport: | Cycling | Triathlon | Gym | Running | Team sports |
| Size: | 700g |
| Timing: | Před výkonem | Při výkonu |
| Form: | powder |
COMPOSITION: Sucrose, glucose, acidity regulator: citric acid, taurine, L-ascorbic acid, L-carnitine L-tartrate, sodium chloride, sodium citrate, caffeine, potassium dihydrogenphosphate, potassium chloride, carminic acid.
PREPARATION AND DOSAGE: For fatigue, for the stimulation and for better handling of stress situations, 1 scoop (about 20g) of powder mix into 200-250ml of water, 1-2 hours after the next dose, but no more than 3 doses of energy drink Jet Power daily.
For athletes 1 dose before exercise and more during exercise.
Do not exceed the recommended daily dosage.
It contains caffeine, the drink is not suitable for children, juveniles, pregnant and nursing women and caffeine-sensitive people.
The maximum dose contains about as much caffeine as 3 cups of coffee.
Nutritional dates
100g
1 dávka/dose
20 g
Energy
kJ
1644
329
kcal
391
78
Fats
g
< 0,1
< 0,1
from that saturated fatty acids
g
0
0
Sacharides
g
94
19
from that sugars
g
94
19
Proteins
g
2,7
0,5
Salt
g
1
0,2
Vitamin C
mg
500
100
625% RHP*
125% RHP*
L-carnitine
mg
340
68
Taurine
mg
2 500
500
Caffeine
mg
300
60
Sodium
mg
390
78
Reference intake of an average adult (8 400kJ/ 2 000kcal)