MAIN BENEFITS Penco® ENERGY GEL LONG TRAIL 35g:


A special blend of maltodextrins and simple sugars
10% isomaltulose (Palatinose TM)
Sodium and potassium ions
It does not contain added thickeners
New original packaging with environmentally friendly sachet opening solution

WHY USE Penco® ENERGY GEL LONG TRAIL 35g?

A prerequisite for continuing to perform high intensity is slowing down the loss of carbohydrate stores (muscle glycogen), and for that moment Penco® ENERGY GEL LONG TRAIL is a unique energy gel based on a combination of carbohydrates, electrolytes and vitamin E.

Penco® ENERGY GEL LONG TRAIL increases carbohydrate "fuel" before and during performance. It contains a special blend of complex carbohydrates (maltodextrins) and simple sugars (glucose and fructose) and now newly Palatinose for gradual release of energy during prolonged sports performance.

Isomaltulose Palatinose TM is. a natural substance, a slow digestible carbohydrate with a low glycemic index In the body, it is metabolised more slowly than other sugars without a significant increase in glucose, muscle and brain provide the same amount of energy as sucrose or glucose, but at longer intervals.

The Na + (sodium) and K + (potassium) ions present supplement the minerals lost by sweat during heavy performance. Penco® ENERGY GEL LONG TRAIL is enriched with vitamin E, which contributes to the protection of cells against oxidative stress, the danger of which is particularly high during extreme physical stress.

It does not contain added thickeners that can cause stomach problems in some athletes. The gel consistency of Penco gels is achieved by a special manufacturing technology utilizing the natural properties of the raw materials used.
Product info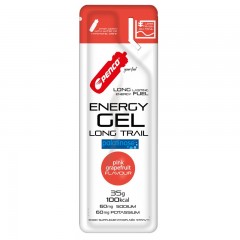 | | |
| --- | --- |
| Manufacturer: | PENCO |
| Category: | ENERGY GELS |
| Availability: | immediately to expedition |
| Type of product: | Gels |
| Flavor: | Pink grapefruit |
| For sport: | Cycling | Triathlon | Running | Team sports |
| Size: | 35g |
| Flavours: | 2019-e-gel |
| Timing: | During activity |
| Form: | liquid |
Dosage: Penco Energy Gel should be taken 5-10 minutes before exercise to replenish glycogen stores, every 30 minutes under exercise and immediately after exercise to reduce body regeneration time. Using the gel is easy - every 30 minutes squeeze the contents of the sachet into your mouth and drink it with water or a very diluted hypotonic drink (200-300 ml). Fluid replenishment is necessary to prevent dehydration of the body and create conditions for proper digestion and absorption of gels. In order to be able to rely on gels during a race or a match, it is advisable to test them during training. Recommended for all types of sports with a load time of over 1 hour.
COMPOSITION: maltodextrins 44%, water, isomaltulose * (Palatinose TM) 10%, glucose, fructose, acidity regulator: citric acid, aroma, potassium citrate,sodium citrate, sea salt, aroma ( E414, E445 ), color: beta carotene and carrot and hibiscus extract, preservatives: potassium sorbate and sodium benzoate, vitamin E (DL-α alfa-tocopheryl acetate) * Isomaltulose is a source
of glucose and fructose.
Nutritional data 100g / 35g: Energy value 1180 kJ = 280 kcal / 413kJ = 98 kcal * Fat 0g / 0g of which saturated fatty
acids 0 g / 0 g * Carbohydrates 68 g / 24 g of which sugars 24 g / 8.5 g * Proteins 0 g / 0 g * Salt 0.4 g / 0.15 g, vitamin E 29 mg (242% RHP * / RI *) / 10 mg (83.5% RHP * / RI *), sodium 170 mg / 60 mg, potassium 170 mg (9% RHP * / RI *) / 60 mg (3% RHP * / RI *). * Reference income for the average adult.