MAIN ADVANTAGES OF PENCO® ULTRA PROTEIN BAR:
30% protein
No added sugar
High in prebiotic fiber
Gluten-free
Without palm fat
Excellent taste and consistency
ONE PENCO® ULTRA PROTEIN BAR CONTEINS:
15 g protein * 1.5 g sugars * 8 g fiber * only 193 kcal * 0.7 mg vitamin B6

WHY USE PENCO® ULTRA PROTEIN BAR?

Penco® ULTRA PROTEIN BAR is a bar with low content of simple sugars and high content of quality proteins, the main component of the protein mixture is whey concentrate WPC. It has optimal protein-to-carbohydrate ratios, ie it contains more proteins than carbohydrates. It is enriched with vitamin B6, which promotes normal protein and glycogen metabolism and contributes to normal immune system function and red blood cell production.

WHO IS IT INTENDED FOR?

Penco® ULTRA PROTEIN BAR is designed as a quick snack during the day for anyone who wants to increase their daily protein intake to support muscle growth. On a hike, bike trip, car trips, hunger and feed. We recommend athletes especially after training. One Penco® ULTRA PROTEIN BAR with an energy value of less than 200 kcal may also be a suitable part of a low-energy or lowcarb diet.

Product info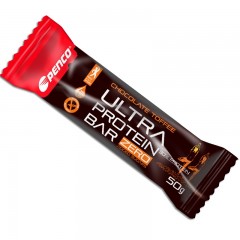 | | |
| --- | --- |
| Part number: | k1000015 |
| Manufacturer: | PENCO |
| Category: | PROTEIN BARS |
| Availability: | immediately to expedition |
| Type of product: | Bars |
| Flavor: | Choco-Tofee |
| For sport: | Cycling | Triathlon | Team sports |
| Size: | 50g |
| Flavours: | bar-ultra-protein |
| Timing: | During activity |
INGREDIENTS: protein mix (whey concentrate, milk isolate, soy isolate) 34.7%, oligofructose, sweetener: maltitol, milk chocolate with maltitol (sweetener: maltitol, cocoa butter, whole milk powder, cocoa paste, cocoa skimmed powder, sunflower emulsifier lecithin, flavor 14%, rapeseed oil, moisturizer: glycerol, cocoa butter, emulsifier: soy lecithin, flavor, vitamin B6 (pyridoxine hydrochloride), antioxidant: D-alpha-tocopherol. The product may contain traces of peanuts and nuts.

DOSAGE: Do not exceed the recommended daily dose of 3 bars. Contains maltitol - excessive consumption can cause laxative effects. Not suitable for children under 12 years. Ensure a varied and balanced diet and a healthy lifestyle. In the event of any discomfort after discontinuation, discontinue use. Best before date indicated on the package. Store and store in a dry place below 25 ° C. Do not expose to direct sunlight.
Nutritional data in 100 g: Energy value 1615 kJ / 386 kcal * Fats 14 g / of which saturated fatty acids 5 g * Carbohydrates 27 g of which sugars 3 g * Fiber 16 g * Protein 30 g * Salt 0.5 g, vitamin B6 1.4 mg (100%) RHP *) * Income reference value for an average adult (8,400kJ / 2,000kcal).