Maximal support for muscle building
Absolute protection against degradation of muscle tissue
Energy source during strenuous and intense exercise
Significant suppression of fatigue and prolongation of performance
6000 mg of high quality amino acids in 100ml.
Does not contain sugars - only 4.9 kcal in one batch!
Excellent taste of fruit

PENCO® BCAA Liquid is a fluid blend of branched chain amino acids, branched chain Amino Acids, enriched with Taurine, which relieves the feeling of tiredness with intense exercise and vitamin B6, which accelerates regeneration and helps muscle tissue growth.

BCAAs are present in an ideal ratio, 2 parts L-leucine, 1 part L-valine and 1 part L-isoleucine. In this ratio they are also represented in muscle proteins! Branched amino acid representation is regularly checked inPENCO® BCAA Liquid.

L-leucine is the most important amino acid of BCAA, used in the body twice as much as L-valine and L-isoleucine. Synthesis of proteins stimulates L-leucine in particular due to its ability to raise blood insulin levels. In addition, L-leucine has the most pronounced anti-catabolic effect, it is of utmost importance for protecting muscle tissue during intense and demanding training.

Although L-leucine is the most effective branched-chain amino acid, its supplementation is not recommended because it could lead to amino acid imbalances. Also toxicological studies have shown that BCAAs are safe when administered in a ratio that is similar to their representation in animal proteins.

BCAAs are irreplaceable in situations where the body gets into an unfavorable catabolic state (remodeling, excessive aerobic exercise and endurance sports). In these cases, BCAA serves as an energy substrate to protect muscle tissue from degradation.

L-taurine stimulates brain activity, improves muscle coordination and accelerates the transport of amino acids and carbohydrates to muscle cells, thereby contributing to muscle mass synthesis after training. L-taurine also has significant anti-catabolic effects, delays exhaustion and positively affects the regeneration of the organ after a heavy physical load.

PENCO® BCAA Liquid contains vitamin B6, which is an important coenzyme in amino acid metabolism.
Product info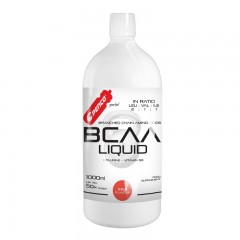 | | |
| --- | --- |
| Part number: | BCAALIQ1000POM |
| Manufacturer: | PENCO |
| Category: | LIQUID AMINOACIDS |
| Availability: | immediately to expedition |
| Type of product: | Aminokyseliny |
| Flavor: | Orange |
| For sport: | Cycling | Triathlon | Gym | Running | Team sports |
| Size: | 1000ml |
| Flavours: | BCAA-liquid |
| Timing: | Po výkonu |
| Form: | liquid |
Ingredients: purified water, L-leucine, taurine, L-isoleucine, L-valine, acidity regulator: citric acid, aroma, dye-beta-carotene (Orange flavor only)
Acesulfame K, vitamin B6 (pyridoxine hydrochloride), natural coloring agent carmine (cherry flavor only)).
Dosage: once 1-3 cups of 20 ml are drinkable without dilution or diluted with water or dosed into a hypotonic drink.
If you want to use Penco® BCAA Liquid as an energy substrate, drink 1-2 cups of 20 ml 30-40 minutes before exercise.
During performance, we recommend drinking 1 scoop.
Immediately after exercise, drink 2-3 cups of Penco® BCAA Liquid.
Výživové údaje/Nutritional Dates
100 ml
20 ml

Energetická hodnota/Energy
kJ
102
20,4
Tuky/Fats
g
<0,1
<0,1
z toho nasycené mastné kyseliny/from that saturated fatty acids
g
0
0
Sacharidy/Saccharides/
g
<0,1
<0,1
z toho cukry/from that sugars
g
0
0
Bílkoviny/ Proteins
g
6
1,2
Sůl/ Salt
g
0
0
L-leucin/Leu
mg
2000
400
L-valin/Val
mg
1000
200
L-isoleucin/Ile
mg
1000
200
Taurine
mg
2000
400
Vitamin B6
mg
10
2
%RHP/RI*
714
143
* Referenční hodnota příjmu u průměrné dospělé osoby/ Reference intake of an average adult (8 400kJ/ 2 000kcal)