Quick replenishment of energy reserves (glycogen)

With antioxidants (vitamins C and E and trace elements Zn, Mn and Se), which contribute to protecting cells from oxidative stress

With vitamin C for normal immune system functions

Maximal support for muscle building

S

ignificant shortening of regeneration time

PENCO® AFTER ACTIVITY is a recovery drink that restores balance in the body after exercise (exercise, race, or excessive physical exertion). It refills glycogen stores to the muscles and liver, helping to prevent catabolic processes. Energy is supplied by simple sugars (sucrose, glucose) as well as higher molecular polysaccharides, amino acids and proteins. The protein component is whey proteins with high biological value, which are relatively quickly resorbed and help switch the catabolic process to anabolic.

To accelerate regeneration, PENCO® AFTER ACTIVITY is enriched with a blend of free amino acids BCAA (Branched Chain Amino Acids) that protect muscle tissue and promote anabolism. One dose of PENCO® AFTER ACTIVITY recovery drink provides 350 mg of free BCAA in an ideal ratio of 50% leucine, 30% valine and 20% isoleucine. Additionally, the formula contains active substances with antioxidant effects (vitamins C and E and trace elements of zinc, manganese and selenium), which help to protect cells from oxidative stress, the risk of which increases with the intensity of physical stress. Coenzyme Q10 is not only an effective antioxidant but also plays a vital role in gaining energy for further metabolic processes.

Not only effective training but also appropriate regeneration contribute to improving performance over the long term!
Product info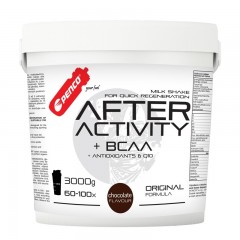 | | |
| --- | --- |
| Manufacturer: | PENCO |
| Category: | Recovery drinks |
| Availability: | immediately to expedition |
| Type of product: | Recovery drinks |
| Flavor: | čokoláda |
| For sport: | Cycling | Triathlon | Gym | Running | Team sports |
| Size: | 600g | 1500g | 3000g |
| Flavours: | AA-600 | AA-1500 | AA-3000 |
| Timing: | Po výkonu |
| Form: | powder |
COMPOSITION: dried whey, sucrose, maltodextrins, dextrose, flavor, emulsifier: soy lecithin, cocoa (AA only), sunflower oil, L-leucine, xanthan gum thickener, L-valine,
L-ascorbic acid, tocopheryl acetate 50%, nicotinamide, calcium D-pantothenate, riboflavin, pyridoxine hydrochloride, thiamine mononitrate, pteroylmonoglutamic acid, D-biotin, cyanocobalamin), zinc oxide, natural dye E120
coenzyme Q10, manganese sulphate, sodium selenite.
Minerals are a natural part of the proteins and carbohydrates present.
Allergy warning: The product contains lactose.
PREPARATION AND USE: About 30-50g (2-3 scoops) of the powder is mixed in 250-350 ml of cold water or milk.
Drink immediately after the load, preferably within 15 minutes.
Výživové údaje/Nutritional Dates

pro 100 g
%RHP/ RI*/
pro 50 g **
%RHP/ RI*/ 50 g **
100 g
Energetická hodnota/Energy content
kJ
1590
19
795
9,5
kcal
379
19
190
9,5
Tuky/Fats
g
4
6
2
3
z toho nasycené mastné kyseliny/from that saturated fatty acids
g
0,4
2
0,2
1
Sacharidy/Saccharides/
g
78
30
39
15
z toho cukry/from that sugars
g
52
58
26
29
Bílkoviny/
g
7
14
3,5
7
Proteins
Sůl/Soľ/Salt
g
2
33
1
17
Vitamíny/Vitamins
A
µg
333
42
166
21
C
mg
225
281
112,5
140
E
mg
24
200
12
100
B1
mg
0,6
54
0,3
27
B2
mg
2,1
150
1,05
75
B6
mg
0,8
57
0,4
28
B12
µg
3
120
1,5
60
Kys. listová/folic acid
µg
60
30
30
15
Kys. pantothenová/pantothenic acid
mg
8,8
147
4,4
73
Niacin
mg
6,5
40
3,25
20
Biotin
µg
80
160
40
80
Koenzym Q10/Coenzyme Q10
mg
4
**
2
**
Minerální látky/Minerals
Sodík/Na
mg
780
**
390
**
Draslík/K
mg
1120
56
560
28
Vápník/Ca
mg
540
68
270
34
Hořčík/Mg
mg
110
29
55
15
Fosfor/P
mg
420
60
210
30
MěďCu
mg
0,2
20
0,1
10
Zinek/Zn
mg
7,5
75
3,75
37
Mangan/Mn
mg
1
50
0,5
25
Selen/Se
µg
24
44
12
22
Aminokyselinový profil/Amino Acids profile/
Izoleucin/Ile
mg
620
310
Leucin/Leu

mg
1080
540
Lysin/Lys

mg
620
310
Methionin/Met
mg
120
60
Fenylalanin/Phe
mg
270
135
Treonin/Thr
mg
550
275
Tryptofan/Trp

mg
140
70
Valin/Val
mg
706
353
Arginin/Arg

mg
210
105
Histidin/His
mg
110
55
Alanin/Ala
mg
330
165
Asparágová kys./Asp
mg
810
405
Cystein/Cys
mg
90
45
Glutamová kys./Glu

mg
1300
650
Glycin/Gly
mg
110
55
Prolin/Pro
mg
230
115
Serin/Ser
mg
350
175
Tyrosin/Tyr
mg
260
130
RHP- Referenční hodnota příjmu/ RI - Reference Intake
*Referenční hodnota příjmu u průměrné dospělé osoby/
Reference intake of an average adult (8 400kJ/ 2 000kcal).
** RHP nestanoveno/ RI not given
** 50g = 1 porce/porcia/portion

BCAA = Val + Leu + Ile