Penco® X-RIDE is an energy stimulant in oval tablets with a pleasant cherry of slightly bitter taste. It contains a combination of biologically active substances with stimulating effects. The carrier of these substances is glucose with a cooling effect in the mouth.

An important ingredient in the preparation is the cocoa bean extract (Theobroma cacao L.). In history, cocoa was considered "the dish of the gods." The most important substance in cocoa beans is theobromine, which has a stimulating effect on the central nervous system (CNS). Cocoa beans, in addition to alkaloids (theobromine, caffeine and theophylline), and polyphenols with antioxidant effects also contain psychoactive substances that affect perception, mood and antidepressant effect.

The positive effects of caffeine on improving mental and physical abilities have been confirmed by many studies. The role of caffeine has been recognized to increase acuteness, concentration, decision-making at critical moments and stress resistance. The caffeine effect has also been shown to increase endurance performance and reduce effort perceptions. According to EFSA, these effects are conditioned by a high caffeine dose of 3-4 mg / kg body weight. A daily dose of 300 mg of caffeine is considered a safe dose.

One Penco® X-RIDE tablet contains:

    

60 mg caffeine

    

100 mg of taurine

    

20 mg of cocoa bean extract with 10% theobromine content

    

150 mg of vitamin C

    

1400 mg of glucose

    red

beet juice

Penco® X-RIDE is suitable not only for sports, but also for study, entertainment or for drivers and managers.
| | |
| --- | --- |
| Part number: | XRIDE50 |
| Manufacturer: | PENCO |
| Category: | ENERGY STIMULANTS |
| Availability: | immediately to expedition |
| Type of product: | Tablets |
| Flavor: | Cherry |
| For sport: | Cycling | Triathlon | Gym | Running | Team sports |
| Size: | 50 tbl. |
| Timing: | Před výkonem | Při výkonu |
| Form: | powder | tablets |
| Number of tablets: | 50 |
DOSAGE: adults 1- 3 tablets a day.
Directions for use: Let the tablet slowly dissolve in the mouth, drink with water or a hypotonic drink. With increased physical or psychological activity, 1 tablet before exercise and one at the first fatigue are used. Warning: Contains caffeine - not suitable for children and pregnant women. Do not exceed the recommended daily dosage. The product is not intended as a substitute for a varied diet. Keep out of reach of children!

COMPOSITION: glucose, filler: microcrystalline cellulose, vitamin C (L-ascorbic acid), taurine, natural dye: dried beet juice 2.4%, caffeine flavor, cocoa bean extract with 10% teobromine content, anti- magnesium stearate.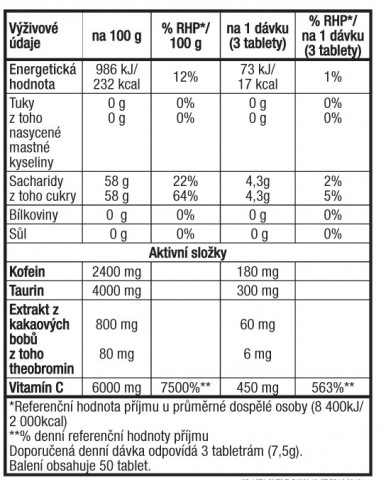 Uložit