Penco® Energy Gel 500ml

Contains 19 batches of energy gel in economical packaging, for use in combination with a practical "Soft flask" reservoir. saving your money and nature ...

Penco® Energy Gel increases the level of carbohydrate "fuel" before, during, and after the load. It contains a special blend of complex carbohydrates (maltodextrins) and simple sugars (glucose and fructose). The present Na + (sodium) and K + (potassium) ions supplement these minerals, lost by sweat during demanding performance. Penco® Energy GelL is enriched with vitamins C and E, which help protect cells from oxidative stress, the danger of which is threatened especially by extreme physical stress. In addition, high vitamin C (120 mg in each dose, ie up to 150% of the recommended daily intake) helps in challenging sports performance to maintain normal energy metabolism, strengthen the immune system and suppress fatigue and premature exhaustion. Penco® Energy GelL does not contain any added thickeners.

If an athlete is properly supplemented by nutrients and energy, the "fuel" in the form of glycogen, which is stored in muscle and liver cells, is sufficient for about an hour. After this time, glycogen is exhausted, the level of blood sugar decreases significantly and the result is physical and psychological fatigue. This prevents not only the delivery of quality sports performance, but because the brain does not get the necessary fuel-glucose, it slows down its activity. In addition, impaired communication between the brain and the muscles may be the cause of an incorrect decision at the crucial moment of the race or match. Normal high activity of the nervous system and reduction of fatigue also contribute to high vitamin C content. One dose provides 120 mg of vitamin C and 413 kJ of instant energy. You can feel the increase in energy within 5-10 minutes at the latest.

Penco® SOFT FLASK

Great helper with Penco® Energy Gel in economical packaging. The reservoir has a content of 150ml, sufficient for 5 doses of gel. Made of non-toxic TPU (thermoplastic polyurethane) material, PVC-free and Phthalate Bisphenol. Remove the protective film from the cap before using the vial. The gel is simply pushed into the mouth by biting the Soft Flask bottle valve. Without leakage of the safety valve, spontaneous leakage of the gel can not occur. Gel in "Soft Flask" use the next day. "Soft Flask" after use rinse thoroughly with water and allow to dry.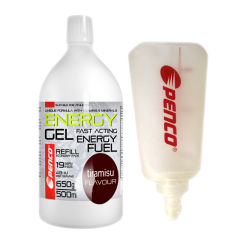 | | |
| --- | --- |
| Manufacturer: | PENCO |
| Category: | ENERGY GELS |
| Availability: | immediately to expedition |
| Type of product: | Gels |
| Flavor: | Tiramisu |
| For sport: | Cycling |
| Size: | 500ml |
| Flavours: | 500ml-se soft |
| Timing: | Před výkonem | Při výkonu |
USE: Depending on the expected length and intensity of the activity, pour  into the reusable bottle "Soft Flask"
up to 5 doses of Penco® Energy Gel. Remove the plactic foil from the top of the soft flask. Gel in "Soft Flask" use the same day. Store the economic package after opening in the refrigerator and use within 3 months. "Soft Flask" after use rinse thoroughly with water and allow to dry.
DOSAGE: 5 - 10 minutes before exercise 1 dose (about 35 g / 27 ml) is used, every 30
min or, if necessary, the next dose. Penco® Energy Gel is simply pushed into the mouth by biting the valve of
Soft Flask. Spontaneous leakage can not occur. Each dose wash down with 200-300 ml of water or a hypotonic drink. Maximum recommended daily dose is 175 g / 135 ml. Do not exceed the recommended daily dosage. Take care of a varied and balanced diet and a healthy lifestyle. In case of any difficulty in using the product, stop using it.
COMPOSITION: maltodextrins, water, glucose, fructose, acidity regulator: citric acid, vitamin C (L-ascorbic acid), sodium citrate, potassium citrate, sodium chlo- lide, aroma (antioxidant E392), coloring E150d, preservatives: potassium sorbate and sodium benzoate, vitamin E (DL-alfa-tocopheryl acetate).
Nutritional dates in 100g/35g: Energy 1180 kJ =280 kcal/413 kJ=98 kcal * Fats 0g/0g of which saturated fatty acids 0 g/0 g * Carbohydrates 68 g /of which sugars 13 g/4,5 g * Proteins 0 g * Salt 0,36 g/0,13 g, vitamin C 343 mg (429% RHP*/RI*)/ 120 mg (150% RHP*/RI*), vitamin E 29 mg (242 % RHP*/RI*)/, 10 mg (83 % RHP*/RI*), sodium 143 mg/50 mg.  Reference intake of an average adult (8 400kJ/ 2 000kcal).