Effective antioxidant system with coenzyme Q10
Increased share of pieces of forest fruit
200 mg of vitamin C in each bar helps boost the immune system
200 mg of vitamin C in each bar contributes to reducing fatigue and exhaustion
The unique ingredient is MCT (Medium Chain Triacylglycerols), which, according to available literature, is quickly absorbed and releases energy. MCTs with medium chain fatty acids are special fats, which, unlike normal fats in the body, are not stored and for entering their burning site, the so-called mitochondria do not need L-carnitine. MCTs provide the necessary energy while contributing to the reduction of fat stores. Coenzyme Q10 is not only an antioxidant but also an important component of energy production.
We recommend PENCO® SPORT ENERGY BAR during training or race of lasting character (running, cycling ...), as well as energy for various sporting activities or at any time during the day as a quick snack.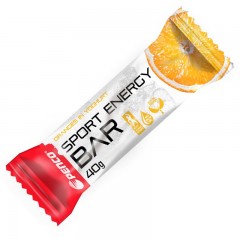 | | |
| --- | --- |
| Manufacturer: | PENCO |
| Category: | ENERGY TYČINKY |
| Availability: | immediately to expedition |
| Type of product: | Bars |
| Flavor: | Orange |
| For sport: | Cycling | Triathlon | Running | Team sports |
| Size: | 40g |
| Flavours: | sportenergy-bar |
| Timing: | Před výkonem | Při výkonu |
COMPOSITION:
glucose syrup, yoghurt coating 25% (yoghurt compound (sugar, fully and partially hydrogenated vegetable fats /palm kernel oil/, sweet
whey
powder, yoghurt powder (2%), acid:citric acid, emulsifier: soy lecithin, flavour /yoghurt/),
oat
flakes, extruded balls (
wheat
semolina, rice flour, sugar,
wheat
flour,
rye
flour,
barley
malt flour,
wheat
fibre), orange pieces 5,5% (fruit /concentrated apple puree, concentrated orange juice/, fructose - glucose syrup, glucose syrup, sugar, humectant: glycerol,
wheat
fibre, gelling agent: pectin, palm fat, acidity regulator: citric acid, flavouring, antioxidant: ascorbic acid), extruded cereal flakes (corn grits, sugar, iodized salt /edible salt, potassium iodate/,
barley
malt extract, mineral: calcium carbonate), glucose-fructose syrup, rapeseeds oil, papaya (dried papaya, sugar, preservative: sulfur dioxide), emulsifier: soya lecithin, MCT oil (medium chain triacylglycerols), flavouring (orange), iodized salt, acid: citric acid, vitamin C, vitamin E (tokoferolacetate), beta-carotene, zinc oxide, manganese II sulphate, coenzyme Q10, sodium selenite. The product may contain traces of peanuts and nuts.
DOSAGE:
Do not exceed recommended daily dose 3 bars, children and pregnant women 1 bar. Unsuitable for children under 3 years of age. Best before stamped on the package. Store in dry place at below 25 °C. Store away from direct sunlight.
100 g: Energy 1532 kJ/ 368 kcal * Fats 6,1g/ of which saturated fatty acids 1,5g * Carbohydrates 70g/of which sugars 36g * Proteins 3,7g * Fibre 6,7g * Salt 0,3g * Vitamin A 1840μg ( 230 % RHP) * Vitamin C 667mg ( 834 % RHP) * Vitamin E 57mg ( 475 % RHP) * Selen 44μg ( 80%RHP ) *Zinc 13mg( 130% RHP) * Mangan 2,3mg ( 115 % RHP) *Coenzyme Q10  8,9mg * Lecithin 2100mg * MCT oil 1300mg.